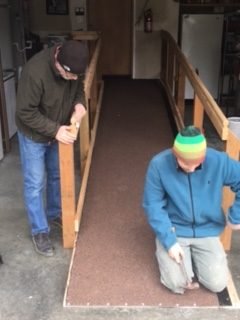 ** We are currently booked through 2022 and will not be considering applications until 2023.
The White Hat Committee is open to all BIAWC members and exists for members to give back to the community by building access ramps at no charge for homeowners in need within Whatcom County. BIAWC members have donated time and materials for over 22 access ramps.
Ramps are limited to approximately 4 per year.
White Hat Committee meets once per quarter.
Typical timeline is 1-3 months for ramps to be completed.
Applications will only be considered if photos of the existing entry are included.
Applications are limited and dependent on volunteer interest and available donations of materials. Submission of an application does not guarantee acceptance.